Remarket your assets through a leading auction software
Auctioneers all around the world are demanding online auction software that is both reliable and easy to use.
With no need to download apps to place a bid, and with compatibility across all modern mobile phones and tablets, our aim is to open up online bidding for each and every bidder.
Online auctions are a fantastic platform for expanding geographical reach, and for increasing market share outside of your direct regions.
With auctioneers all over the world starting to bring their businesses online, it's a logical step to supply your bidders with a scalable platform that enables online bidding.
We supply auctioneers with a full suite of online auction tools to facilitate online timed auctions, streamed live webcast auctions and pre-bidding auctions depending your specific requirements.
Our system is quick to set up and incurs no start-up costs. Setting up your first sale is easy, so you could be running your first online auction in a short period of time.
Our online auction software is flexible, providing endless opportunities for auctioneers to create an online marketplace for their online bidders.
Our online auction software is renowned for providing auctioneers with a user-friendly platform that is both feature-rich and simple to use for asset re-marketing purposes.
Remarketing auction software that's run off your own website
Add a solution that operates straight off of your current website to your remarketing services. To make sure the system complies with your current brand standards and requirements, we style the platform using the logos and colours of your company.
We have the online auction tools to steer bidders to the goods they're interested in, and you have the assets to remarket.
We want to make it easier for you to succeed online by promoting the sale of remarketing assets all over the world.
Our online marketplace is also included as standard in the system for those auctioneers who also need a broad remarketing asset sales platform.
Your remarketing auctions can be administered from a single location thanks to the full hub of online selling tools that is made available to you.
A robust platform to simplify your sales online
Dazzle your vendors with dozens of options for selling assets, and with countless ways to remarket assets online.
Our software is powerful, and allows you to list as many photos and videos as you wish. With our multiple selling options, and infinite text descriptions and pictures, there's no stone left unturned when it comes to providing an immersive online auction environment for your bidders.
Online e-outbid notifications are set-up for sending to bidders each and every time they're outbid.
Currency and language conversions are great features for international bidders, and our in-built invoicing and payment gateway makes paying for items simple and straightforward.
Our experienced marketing and technical support teams offer worldwide marketing support for each and every auction to ensure that everything runs smoothly from start to finish. We can also arrange tailored marketing campaigns to help build awareness for each sale.
With all of these features, it's hard to imagine that there's anything this great system doesn't do! So don't be shy and perhaps request a demo. We look forward to helping you drive success online.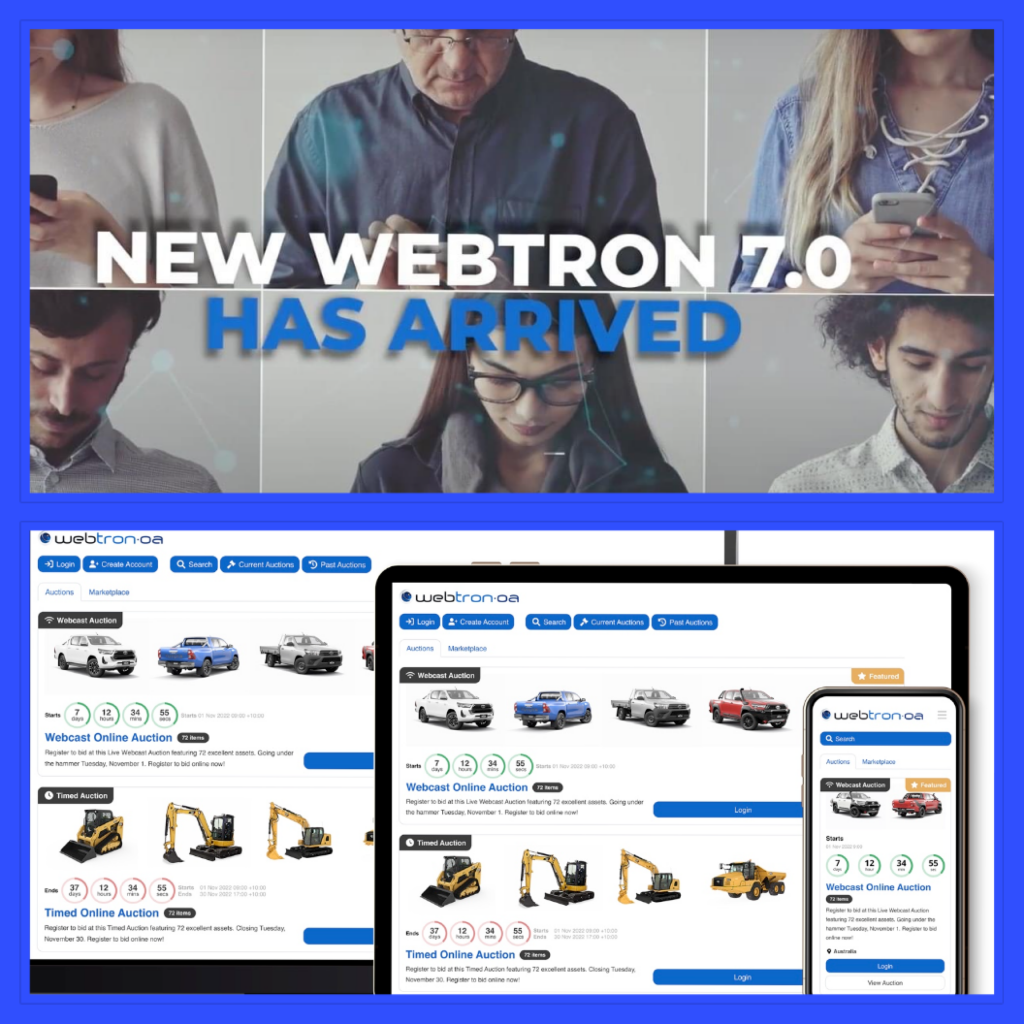 Online auction solutions for your business
🎥 Live Webcast Auctions
⏳ Timed Online Auctions
📈 Marketplace
👩‍💻 Remote Clerking option
✅ Everything you need & will run from your own website
🏷 White Label Auction Software – 'value protect your bidders & IP' ( Not a group site
)
So modern works on all devices without frustrating bidders to download apps
🧑‍💻 Includes Setup, Training & Local Ongoing Support
🧾 Auction invoicing & reporting
🖥 Websites & marketing
😊 Simple for bidders and powerful for auctioneers
So ready to get started?
The New Webtron 7.2 Auction Software is here
There has never been a better moment to update to Webtron's most recent auction software release, version 7.2, for your online auction platform.
It was created for Re-marketing auctioneers like you who want to expand their online auction business. Utilize a white-label auction solution that operates from your own website to stand out from your rivals.
The slogan reads, "Simple for bidders, Powerful for auctioneers."
Contact us to schedule a demo for your company.
Fill in your details to learn more or request a demo!